Waiting on Wednesday er beregnet til at vise bøger frem som jeg ser frem til at læse. Det er min måde til at inspirere til andre gode læseoplevelser i fremtiden.
Titel: Career of Evil
Forfatter: Robert Galbraith
Udgivelsesdato (forventet): 20 oktober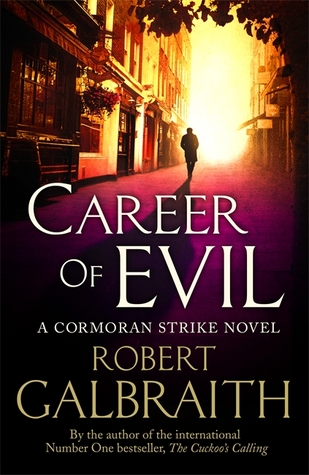 When a mysterious package is delivered to Robin Ellacott, she is horrified to discover that it contains a woman's severed leg.
Her boss, private detective Cormoran Strike, is less surprised but no less alarmed. There are four people from his past who he thinks could be responsible – and Strike knows that any one of them is capable of sustained and unspeakable brutality.
With the police focusing on the one suspect Strike is increasingly sure is not the perpetrator, he and Robin take matters into their own hands, and delve into the dark and twisted worlds of the other three men. But as more horrendous acts occur, time is running out for the two of them…
Career of Evil is the third in the highly acclaimed series featuring private detective Cormoran Strike and his assistant Robin Ellacott. A fiendishly clever mystery with unexpected twists around every corner, it is also a gripping story of a man and a woman at a crossroads in their personal and professional lives.
Cormoran Strike is back, with his assistant Robin Ellacott, in a mystery based around soldiers returning from war.
Grund til jeg glæder mig: Den tredje bog i serien om Cormoran Strike af Robert Galbraith, eller rettere JK Rowling, tyder på at blive lige så spændende som de første to. Det er en af de meget få krimiserier jeg rent faktisk ser frem til, og som kan fastholde min interesse til sammenligning med mange andre krimier. Noget af det jeg godt kan lide er hvordan Rowling/Galbraith er vendt tilbage til rødderne, så at sige, med den klassiske detektiv.
Hvad glæder I jer ellers til at læse?