Waiting on Wednesday er beregnet til at vise bøger frem som jeg ser frem til at læse. Det er min måde til at inspirere til andre gode læseoplevelser i fremtiden.
Titel: A Study in Charlotte
Forfatter: Brittany Cavallaro
Udgivelsesdato (forventet): 1 marts 2016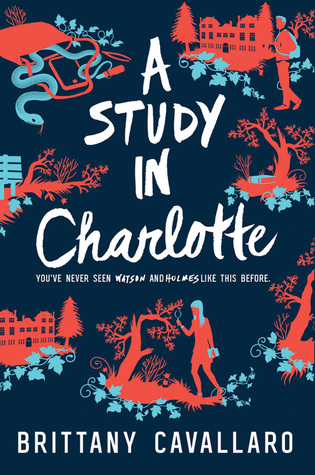 The last thing sixteen-year-old Jamie Watson–writer and great-great-grandson of the John Watson–wants is a rugby scholarship to Sherringford, a Connecticut prep school just an hour away from his estranged father. But that's not the only complication: Sherringford is also home to Charlotte Holmes, the famous detective's enigmatic, fiercely independent great-great-granddaughter, who's inherited not just his genius but also his vices, volatile temperament, and expertly hidden vulnerability. Charlotte has been the object of his fascination for as long as he can remember–but from the moment they meet, there's a tense energy between them, and they seem more destined to be rivals than anything else.
Then a Sherringford student dies under suspicious circumstances ripped straight from the most terrifying of the Holmes stories, and Jamie and Charlotte become the prime suspects. Convinced they're being framed, they must race against the police to conduct their own investigation. As danger mounts, it becomes clear that nowhere is safe and the only people they can trust are each other.
Grund til jeg glæder mig: Det her er den første i en ny trilogi der laver et helt nyt twist på vores klassiske Sherlock Holmes, og jeg syntes den lyder helt vildt spændende. Jeg er meget nysgerrig for at se hvordan Cavallaro har tænkt sig at tackle hele Holmes verdenen i en YA setting og samtidig krydre det med en smule romance efter hvad jeg kan læse mig frem til. Jeg må hellere se at få læst nogle af de originale Sherlock Holmes inden da.
Hvad glæder I jer ellers til at læse?