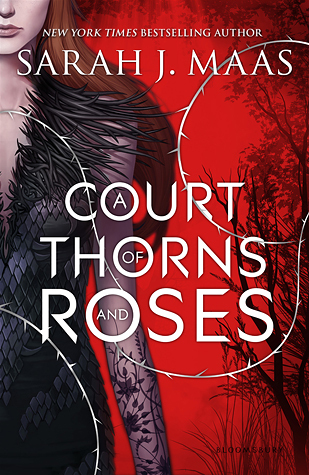 Read as part of the FairyTaleReTelling Challenge
When nineteen-year-old huntress Feyre kills a wolf in the woods, a beast-like creature arrives to demand retribution for it. Dragged to a treacherous magical land she only knows about from legends, Feyre discovers that her captor is not an animal, but Tamlin—one of the lethal, immortal faeries who once ruled their world.
As she dwells on his estate, her feelings for Tamlin transform from icy hostility into a fiery passion that burns through every lie and warning she's been told about the beautiful, dangerous world of the Fae. But an ancient, wicked shadow grows over the faerie lands, and Feyre must find a way to stop it . . . or doom Tamlin—and his world—forever.
(Text from goodreads)
– – – – – – – – – – – – – – – – – – – – – – – –
This was a book I had anticipated for a while. I love Maas's other series (Throne of Glass) so when I heard that she would be writing a new series that took its departure in the fairy tale The Beauty and the Beast I was pretty much sold from the get-go. B&B is one of my absolute favorite fairy tales and Maas's writing is excellent so this new book could only be great. And I was right.
The story follows the pattern of B&B pretty straight-forward and I loved that fact, I thought it was great that I was able to detect the original tale without being a complete replica. Instead I got what was a new story with a much fiercer protagonist who bows down to no one. Feyre was a strong female lead who could carry her story from beginning to end. There were few points where her way of thinking did not quite make sense to me but I guess that comes with the situation of living with a bunch of High Fairies.
Unlike some fairy tale retellings where they keep the issue of love-at-first-sight this one did not. That was another thing I like, because it gives the story more depth. It creates stronger characters and the relationships appear more real. Especially in the case of a fairy tale like Beauty & Beast you need to build up to the relationship in this way, otherwise it will seem much more unrealistic. But in this case it did not.
"But as I followed him there, avoiding the blood he trailed, I thought of what Lucien had told me about his isolation, that burden, thought of what Tamlin had mentioned about how these estates should not have been his, and felt…. sorry for him."
As far as the rest of the characters none of them really grew on me as much as I had expected. Don't get me wrong they were pretty much great all of them, only I didn't feel as strongly attached to either of them. I think the one I was most excited about was Lucien, but that was more because of his strength of character and mouthy comebacks. He was just fun to read about! As for Tamlin I was a bit on the fence about him. On the one hand I quite liked him but on the other I disliked his coolness and ability to be so distanced. I still don't know about him, maybe it will be cleared up in the next book. Rhysand bugged me quite a bit from the get-go. Sure he did what he did for a reason, but he was still quite of an ass, pardon my French.
"Stay with him, fall in love with him, and all would be righted. If I had stayed, if I had admitted what I'd felt… None of this would have happened."
Overall this was a really great story fairy tale retelling or not. It has drama, action, strong emotions, a horrible bad guy/girl and a threat that could be more than it is at the present. It has the three tasks, also a good thing when we talk fairy tales, and it leads to more of Feyre's story to come. The ending happened quite fast. As I read and pages dwindled towards the end I could almost see how fast the ending would have to come so it was anticipated that it would be a very dramatic ending. Feyre took quite a dramatic mood swing at the end so I'm looking forward to see how that spins out in the next book, but why does it have to be so far away, not until next year?!