Waiting on Wednesday er beregnet til at vise bøger frem som jeg ser frem til at læse. Det er min måde til at inspirere til andre gode læseoplevelser i fremtiden.
Titel: Ten Thousand Skies Above You
Forfatter: Claudia Gray
Udgivelsesdato (forventet): 3 November 2015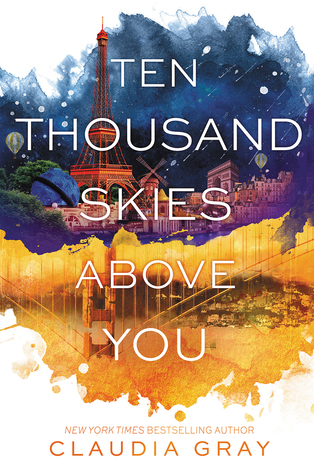 Marguerite Caine has done the impossible, traveling to alternate dimensions with the Firebird—the brilliant invention of her parents, her boyfriend, Paul, and their friend Theo. But she has also caught the attention of enemies willing to kidnap, blackmail, and even kill to use the Firebird for themselves.
When Paul's soul is splintered into four pieces—pieces that are trapped within Pauls in other dimensions—Marguerite will do anything, and travel anywhere, to save him. But the price of his safe return is steep. If she doesn't sabotage her parents in multiple universes, Paul will be lost forever.
Unwilling to sacrifice her family, Marguerite enlists the brilliant Theo to help. The two forge a plan to save Paul and the Firebird, but succeeding means outsmarting a genius and risking not only their lives but also the lives of their counterparts in every other dimension.
Their mission takes them to the most dangerous universes yet: a war-torn San Francisco, the criminal underworld of New York City, and a glittering Paris where another Marguerite hides a shocking secret. Each leap brings Marguerite closer to saving Paul—but her journey reveals dark truths that lead her to doubt the one constant she's found between the worlds: their love for each other.
Grund til jeg glæder mig: Jeg læste den første bog i den her serie i starten af måneden og jeg kan allerede sige at jeg glæder mig helt vildt til næste bog i serien. Det er en bog med action lige fra start, og det er næsten ligesom tidsrejser og så alligevel ikke, men det er næsten lige så godt og jeg elsker det. For det er stadigvæk næsten som at komme til en helt anden verden, og hovedpersonen Marguerite er bare så herlig at følge i hendes kvaler. Klart en bog jeg vil anbefale, som du også snart kan læse min anmeldelse af.
Hvad glæder I jer ellers til at læse?