Waiting on Wednesday er beregnet til at vise bøger frem som jeg ser frem til at læse. Det er min måde til at inspirere til andre gode læseoplevelser i fremtiden.
Titel: Crown of Ice
Forfatter: Vicki L. Weavil
Udgivelsesdato (forventet): Er udkommet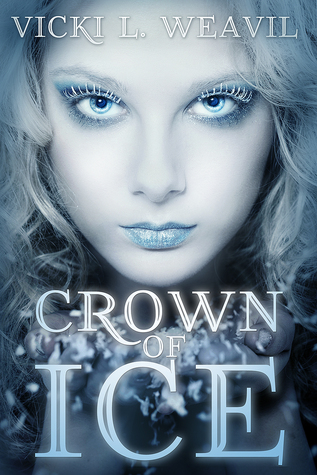 Thyra Winther's seventeen, the Snow Queen, and immortal, but if she can't reassemble a shattered enchanted mirror by her eighteenth birthday she's doomed to spend eternity as a wraith. Armed with magic granted by a ruthless wizard, Thyra schemes to survive with her mind and body intact.
Unencumbered by kindness, she kidnaps local boy Kai Thorsen, whose mathematical skills rival her own. Two logical minds, Thyra calculates, are better than one. With time rapidly melting away she needs all the help she can steal. A cruel lie ensnares Kai in her plan, but three missing mirror shards and Kai's childhood friend, Gerda, present more formidable obstacles. Thyra's willing to do anything – venture into uncharted lands, outwit sorcerers, or battle enchanted beasts – to reconstruct the mirror, yet her most dangerous adversary lies within her breast.
Touched by the warmth of a wolf pup's devotion and the fire of a young man's desire, the thawing of Thyra's frozen heart could be her ultimate undoing.
Grund til jeg glæder mig: En genfortælling af Snedronningen der lyder enormt spændende, skal jeg da være lidt for ignorant til at overse og ikke ville læse. Derfor er den også røget fluks på min TBR liste. Jeg har ikke fået købt den hjem endnu, fordi jeg venter på den rette paperback udgave så den passer ind på hylden med alle de andre paperbacks. Jeg er også lidt glad for at det er en enkeltstående bog og ikke en ny serie, nogle gange er det befriende bare at kunne læse en bog uden at skulle være afhængig af hvor mange flere der kommer i serien man skal vente på.
Hvad glæder I jer ellers til at læse?